Joe Tesar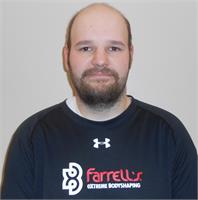 I joined in the summer of 2013. I always tried to be active with softball and farming. The only problem was that I would eat what ever I wanted and it really didn't help staying active. I wasn't able to lose or even control my weight. I always seemed to make a joke about my weight and always seemed to just shrug off about my size until I actually realized what number was on the scale! It was time for a change! My sister had done the previous session and had great results and plus, not wanting to be outdone by my sister both me and my wife joined fxb and started this amazing journey! I wondered how in just 45 minutes a day and with no special health junk to eat how was my body really going to transform like they said it would! Well, I was in for a shock because with following the nutrition plan and working out every day for the first 5 weeks I had dropped 30 lbs. and many inches off of my body! Boy, was I far from being done because in the whole ten weeks I dropped a total of 60 lbs and almost 30 inches in total. When I finished the 10 weeks I knew I had made a good transformation but was still shocked when my name was called as the thousand dollar winner! I was so happy that I even emailed my high school wrestling coach to tell him that I won and how much I had changed! By listening to my instructors, coaches, and other fit members I had succeeded! I knew I wanted to give back right away because Farrell's has given me so much I wanted to return the favor! It's such a big part of my wife's and my life that I'd be lost without going there every day! It's my morning cup of coffee! Everyone there is like my extended family and that's what makes this place worth being a part of. Without it I'd hate to guess how much time I would have taken off my life! I feel great and look great both mentally and physically! I love hitting my level 10 and helping everyone else hit their level 10 as well. Farrell's gave me the tools to succeed and I just want to pass the torch to others to have the same results that I did.
Joe Tesar instructs the following:
This is a cardio kickboxing class.